Flute Ensembles Across Europe 2023
27-27.1.2023 Aveiro, Portugal
The second European festival celebrating the power and diversity of the flute ensemble was staged in the Sala de Congresos, Aveiro from January 26th and 29th 2023, part of a larger event overseen by the Jorge Salgado Correia and the Portuguese Flute Association in collaboration with the European Flute Council. Over the first two days workshops and presentations took place as part of an academic symposium ("Crosswinds: collaborative creativity as transformative practice") exploring multidisciplinary or transdisciplinary approaches to music making, whilst for the last two days we were treated to performances from 12 flute ensembles from Europe, Israel and Colombia.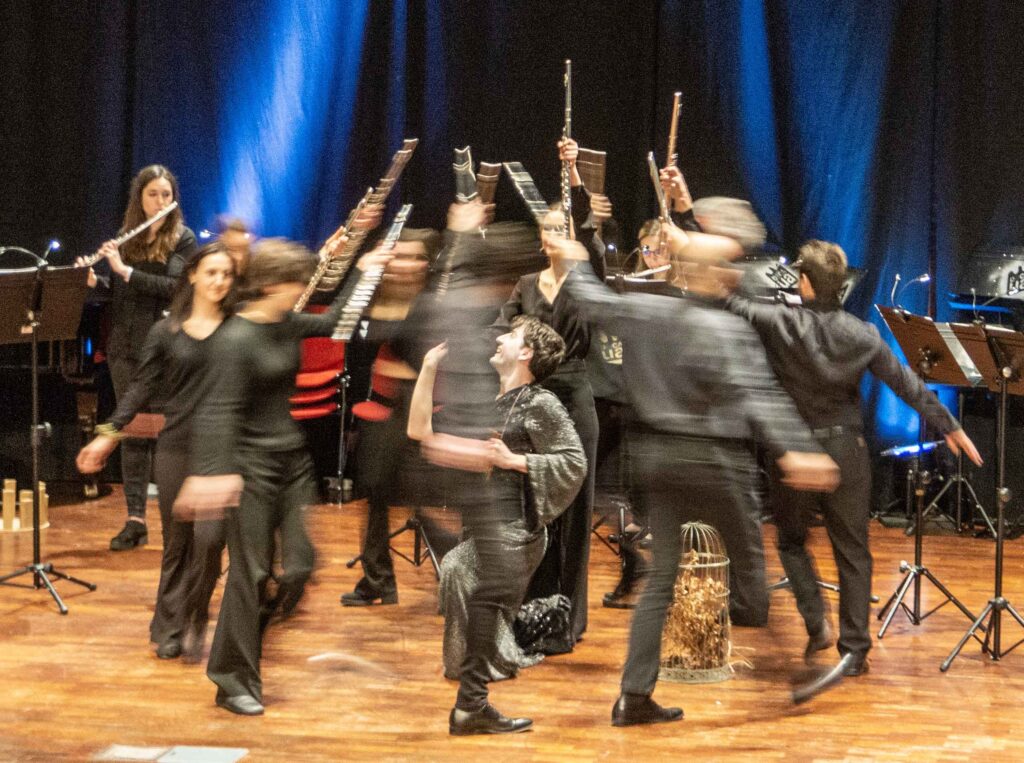 A distinguished group of professional artists (including Patrick Gallois, Rachel Brown, José-Daniel Castellon, Peter Verhoyen, Camilla Hoitenga, Anders Hagberg, Sibel Pensel, and Matthias Ziegler) enhanced the event with recitals, masterclasses and workshops. A "Massive Flute Ensemble" made up of members of visiting flute choirs performed in the final concert, conducted by Sophie Dufeutrelle with soloist Matthias Ziegler. Exhibitors on trade stands added a further dimension, including Adams, Eva Kingma, Kramer and Mancke headjoints and Trübcher and Alry publications.
The concert hall had a very good acoustic, and the flute ensembles performed a wide variety of styles and genres of music, often with great sophistication. Supporting the theme of multidisciplinary practice, Flutua from the University of Aveiro performed tango and flamenco with a dancer, whilst Flaustaff from Spain presented an ambitious version of music from Mozart's "Zauberflöte" with an actor. Particularly demanding as was to be expected was the choreographing of the flute players' interactions with the actor/ dancer. Les Piccolo, a children's dancing flute choir from France and Switzerland with members as young as 6, gave an inspiring demonstration of the power of music and movement.
The festival was a great success, and the European Flute Council is considering where next to hold what is intended to be a biennial event. Many congratulations go to everybody involved, not least to the Portuguese Flute Association and Jorge Salgado Correia for hosting it.
Malcolm Pollock.
Joint Chair, European Flute Council.
The Flute Ensemble of the Austrian Flute Association, lead by Maria Kosa (board of the European Flute Council) was honoured to participate at such a prestigious and versatile festival and to bring Viennese repertoire to the portuguese stage. We were especially happy to have ucranian students join our Flute Ensemble and participate at the Festival with our Association, since our colleagues from Ucraine were sorely missed this time.