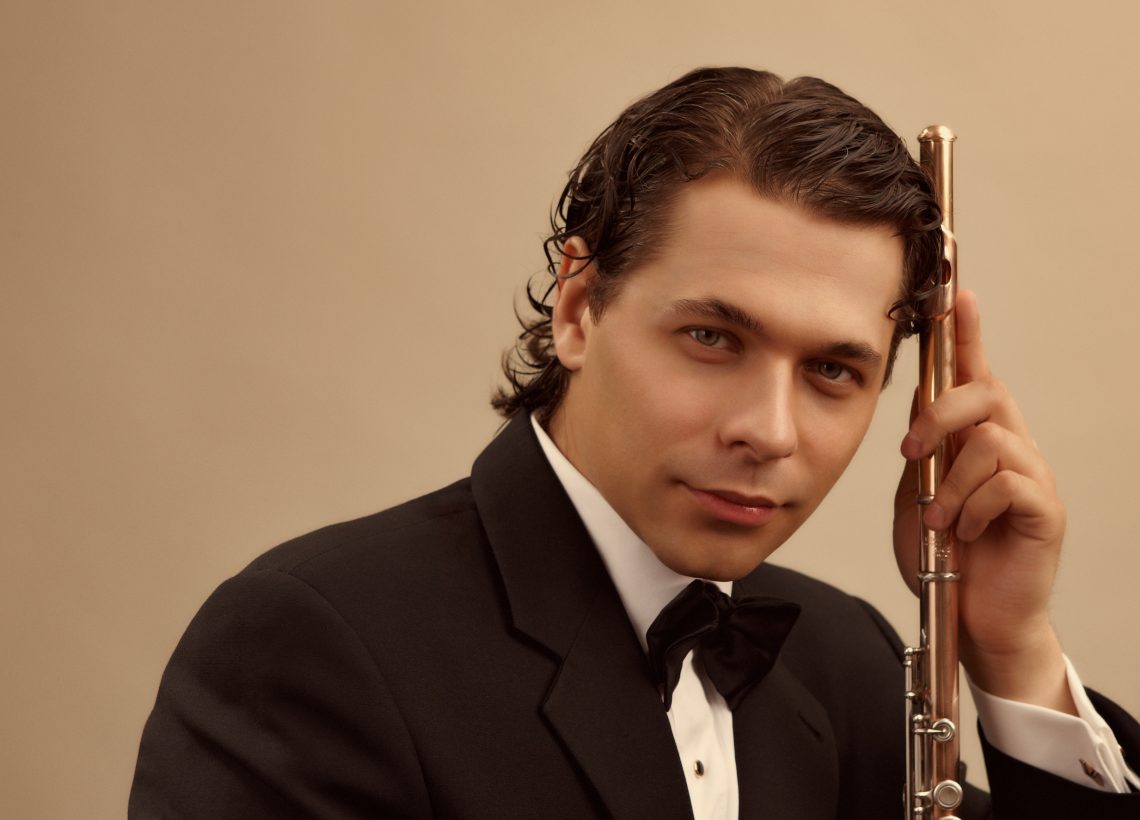 Interview with Maxim Rubtsov
Your artistic career started with playing the piano at the early age of five and later dancing in the famous Moiseyev Dance Company. How did you end up with taking flute lessons?
I began learning the recorder when I was five years old and started piano lessons at the same time to learn proper solfeggio. I was inspired by my mother, who plays and teaches piano, and I frequently saw the combination of flute and piano duos at her music school. I was intrigued by these concerts, and wanted to try both instruments to see which I preferred. After the recorder, my first transverse flute was a piccolo at age seven. I enjoyed moving when I played music, and thus started to dance and express myself through movement. I was invited to dance for the famous director Igor Moiseyev when he visited my hometown in Bryansk. He created many renowned Russian folk-dance productions and collaborations across Russia.
I was granted my first flute performances when the company had me perform on piccolo as part of an interlude during the dance breaks. I chose the piccolo for these performances because it was a loud instrument, and I believed it to have more personality. In general, I was very open to all experiences as a child, trying new things, and performing as much as possible. Nowadays I don't dance anymore, except with my fingers (and sometimes my eyebrows!) during my flute performances.
At a young age, you transferred to Moscow's Gnessin Academy of Music which is far away from your hometown. Was it clear at that time that you want to become a professional flutist?
I started to consider pursuing a career in music when I was fourteen. At this time, I played for a famous clarinet professor, Ivan Panteleevich Mozgovenko, in Moscow. He recommended I attend Gnessin College, which is a pre-college conservatory for talented young musicians. I left my hometown and moved to Moscow for intensive music studies. I always had many interests, including chemistry and social sciences, but my path gravitated towards performing.
You graduated with an advanced degree in music from the Moscow State Conservatory a couple of years later, can you give us some insights into the Russian instrumental training? What distinguishes the Russian school the most from others in your opinion when it comes to flute playing?
I had great teachers who were vastly influential, including my professor at the Moscow Conservatory, Yuri N. Dolzhikov. My studies provided me with an amplitude of knowledge, and I am grateful. In general, my training was conservative and often strict. I can't speak on the comparison of the Russian school to others, but I can say that I was taught in a serious environment that fostered professionalism.
Besides being a classical flutist in the Russian National Orchestra, you have explored jazz and other genre-bending compositions, including the works of Chris Brubeck for jazz quartet and wind quintet together with the Russian National Orchestra Wind Quintet which you are a founding member. How did that come about, why jazz?
It was a great time for my colleagues and me. The collaboration was part of a tour in Russia and the States. My first performance in Moscow with the Russian National Orchestra was the same performance with the Chris Brubeck quartet in 1997. At that time, I was extremely excited to play with this quality of orchestra. I was even more excited to have this unique performance opportunity, combining the spirit of the musicians from the RNO with the Chris Brubeck Jazz Quartet. It was incredibly moving, and it was an intense magnetic moment that connected these two cultures making the world feel smaller. It was during this festival when I met many influential people in my career, and it served as a catalyst for many future collaborations with highly talented individuals.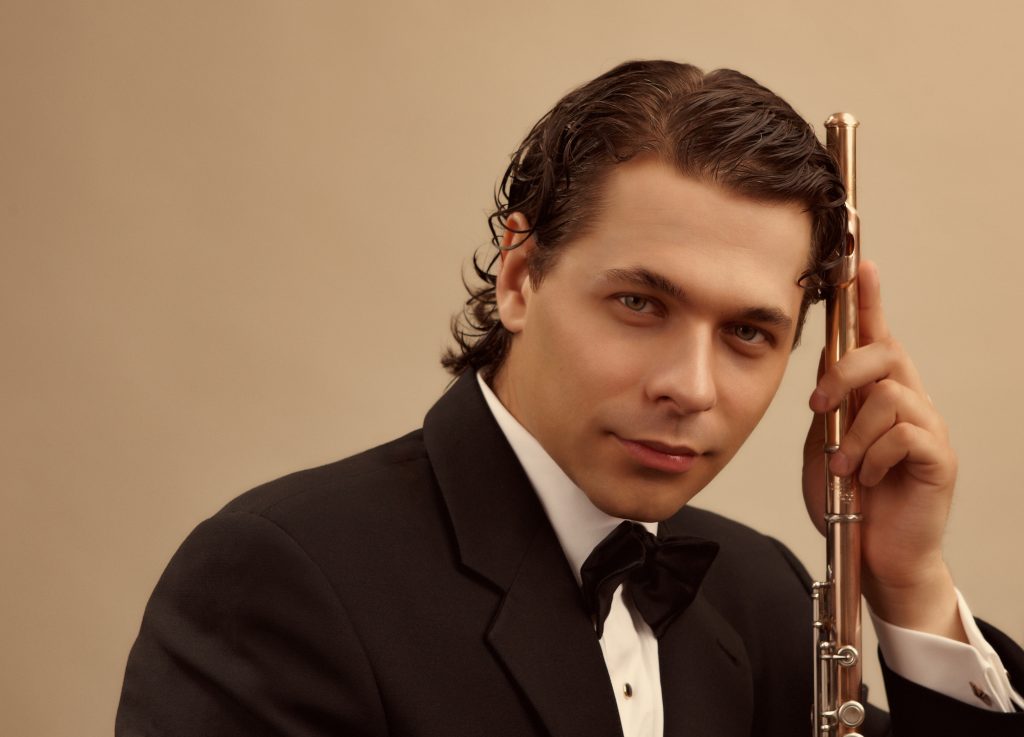 You also joined Instagram a few years ago, your account has over 20 000 followers and your feed almost 1000 posts. Do you think artists need to be present on social media nowadays?
I don't think it is a necessity, but I enjoy sharing my mood and my experiences. Instagram has been a helpful outlet to meet new people in the flute and music community.
On your Instagram profile you show numerous excerpts of orchestra performances and popular flute solos. How different is practicing these orchestral excerpts and playing them in an audition to performing them within an orchestra? What advice do you have for ambitious students?
I started to record myself during rehearsals, and it has been an excellent tool for improvement. I highly recommend recording yourself to see and hear more accurately, to know what you like and what you need to improve. I practice my excerpts as though I am in a performance or audition. It is essential to treat your rehearsal as though as you have an audience for your concert performance to feel natural.
Having performed in many countries and states around the world, including the U.S., how would you characterize the Russian orchestral sonority. What are its specific challenges and requirements for a flutist?
I am lucky to have incredibly talented flute and woodwind colleagues. We have played together for many years, and we know each other's individual notes/pitches for intonation. It is easy to breathe together, and we know all of our habits. We function as a collective whole, and are able to demonstrate a high level of artistry as a result. If you can have this, it doesn't matter where you perform, and you will be able to adapt to the particular acoustics of a concert hall.
I don't notice a specific difference in Russian flute sound compared to other countries. It is my philosophy that flutists must change tone color based on the composer and mood of the piece. Your sound should reflect the context of the music.
In an issue of The Flute View you were talking about the Stanislavski method for orchestral musicians, can you explain your approach in a few sentences?
Like actors in the theatre, we musicians ask ourselves, what did the composer mean when s/he wrote those notes? Why this tempo, or that rhythm? What is the character of my instrument, and how will I show it in a phrase or a song?
The essence of the Stanislavski method is using new experiences that have come from hours of practice, reflection, rehearsal, and travel through new cultures and repertoires. I take inspiration from the air around me, from the distinct sounds of forests and oceans, and from those people who entirely devote themselves to music and our collective creative destiny. Among my colleagues in the orchestra are some very great musicians, and we have found out that all the world is our stage. This is the Stanislavski method.
Last question, in Mid August you held a Masterclass in Vienna organized by the Austrian Flute Association. How was your experience?
I enjoyed visiting Vienna and the Austrian Flute Association. Vienna has a rich musical history, and I was enthusiastic to draw inspiration from the very same places that composers like Beethoven and Mozart visited, worked, and lived. I also enjoyed meeting some of the members of the Austrian Flute Association, including Maria Kósa, who was kind to give us an evening tour that also included the best ice cream spots in Vienna's city center.
The masterclass was a success, and I enjoyed listening to the talented students who attended and even sight-reading some Telemann as a collective group. The workshop that took place was not just about teaching my techniques and methods; it was also an opportunity for me to learn from new friends and fellow flute colleagues. Ultimately, I enjoy traveling through music because I cultivate inspiration from the local musicians, the history of the place, and the experiences of my visit.
Maxim Rubtsov is the Principal Flutist of the Russian National Orchestra and founding member of the RNO Wind Quintet, serving as one of Russia's best musical ambassadors. His solo recitals have been featured on National Public Radio in the United States and on Russia's Culture Television channel.
Instagram: @maxim_rubtsov
This interview was brought to you by Mirjam Braun for the ÖFG.