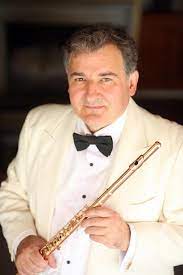 Interview with Claudi Arimany
Dear Mr. Arimany, thank you very much for taking the time to do this interview. I would like to start at the beginning of your international career and your close collaboration with Jean-Pierre Rampal. How was Rampal as a mentor and later as a concert partner?
In fact, I was never a formal student of him, I only took lessons during a few summer courses or when he came to Barcelona. Later, at a music festival where I was free to choose what to do in a concert, I proposed to play with Rampal, they accepted and the concert was a success. After that concert he suggested to give other concerts together and even record some CDs. I was of course very surprised. He told me that we had a very similar way of playing & phrasing and felt the music the same way, that our sounds blended perfectly. From that day on we played together very often and became partners in concerts and recordings until the end of his life. In my opinion he was a very good teacher for advanced students without technical problems and often gave interesting advise to professional flute players as well.
Rampal owned Louis Lot's only gold flute. Have you played this one, too? Whichlegacies of Rampal are particularly close to your heart?
Once Jean-Pierre asked me to try his golden Louis Lot flute. I played it all afternoon in his apartment in Paris and even though the instrument was not in perfect condition, you could really appreciate its great quality. In fact, however, I prefer the two Haynes flutes that he used to play during his career since 1958. The pitch of the Louis Lot flute is very high and the instrument is in general difficult to handle in comparison to the Haynes flutes. Rampal's favorite flute was built in 1958 and he received it the following year from Lola Haynes, the owner of the company. It is really an extraordinary instrument, it became his main flute and he played it until the end of his life. The other, also an exceptional instrument, was always carried in case a problem would appear. I have been using these two Haynes flutes since 2000, after Jean-Pierre passed away, and I hope to play them until the end of my career. He offered me one of these flutes, the second, shortly before a concert that we gave together in Osaka in October 1999, a few months before his death. He told me that he wished I had a meaningful memory of him. The other, the one he had normally played, was given to me by his wife in 2001.
These flutes are of course an important legacy for me, but certainly not the most important. I perfectly remember his smile, his extraordinary sense of humor, his complicit look when we played duets in concert (he hated playing alone and we got tired of doing duets in his house, mine, or hotels), his generosity on stage, his elegance and good taste in phrasing, his sonority that seemed to speak to everyone, and the enthusiasm that he always felt for music even after such a long career. In my opinion, Jean-Pierre Rampal was the greatest and true artist who used the flute as a means of expression. A good person, an immense musician with a unique personality who played like he was a magician or a charmer. He loved people and people loved him. He loved to live and to share. He had great mental strength and never gave up his purpose despite the many inconveniences that might arise, and he was extremely generous both in everyday life and on stage.
You have devoted yourself to the Doppler works for many years, did Rampal also appreciate Doppler? Where did your interest in the Doppler brothers come from?
In fact, this project began when I got an offer to record a CD for the French label Saphir Productions. A few months earlier, my dear friend and flutist Shigenori Kudo had invited me to record several transcriptions for two flutes and piano of Mozart pieces originally written for two pianos or piano four hands together with pianist John Steele Ritter. It turned out to be a very good recording, and when an offer came in from Saphir, I decided to record the Doppler works for two flutes and piano and asked Shigenori to play with me for the recording.
After the first CD had been published, Saphir accepted to produce my idea of a very large project to record the entire works for flute by the Doppler brothers, but the label went bankrupt after the third CD. Fortunately, the label Capriccio from Vienna bought the project and I could continue looking for new works. In the end we had twelve CDs with the complete flute music of the Doppler brothers with around 90 different works, most of them in world premieres. The entire project took about eleven years to find and record everything. Rampal played Doppler very often in concert and we recorded several pieces on a CD made in Los Angeles for the Delos Int. together, called "Romantic Music for Two Flutes and Piano". We played most of the Doppler works for two flutes in concert and for the Doppler recording project I included the "Duettino Americain" that Rampal and I recorded together in 1996.
For your life's work, the compilation of the complete Doppler music, you did a lot of research in Europe, including Vienna. Which works were newly found within this great project and where?
A large part of the works were located in Libraries of Hungary, Austria, the Czech Republic and Germany and to a lesser extent in France, Romania and the United States. In general, Doppler was published in the 19th century, some pieces have been preserved in manuscripts. All this research is very slow and sometimes exasperating, you have to be very patient and persistent. It is crucial to know that a particular work existed, so information must be obtained from concert posters, reviews, hand programs, etc. Once you know that a piece has existed, everything is usually easier, although it does not always appear in the end. For example, according to a concert program on January 3, 1858 in Lemberg, the "Morceau de Concert" written by Franz and Carl Doppler for two flutes and orchestra was performed by them themselves. It cannot be the D minor that we already know because it was included in the same concert. This is one of the few works that, although there is information about its existence, I could not find.
Every time I discovered a new work it was a great satisfaction. On one occasion in Hungary I found the manuscript of a "Grande Fantaisie" in F minor. At home we tried it with the pianist Michel Wagemans, it was beautiful but unfortunately two pages were missing. Years later, while in Prague to give a concert at the Rudolfinum, I met up with Eduard García, a Catalan violinist and member of the Czech orchestra with which I performed. With him I toured several libraries, that I previously hadn't had access to, thanks to the fact that his wife, who worked in one of them, gave us a permit. The last one we visited was the old conservatory of Prague. We asked if they would let us see what they had on the Doppler brothers. At first the lady told us they had nothing. After a bit of insistence, the woman pulled out a dusty folder that probably no one had opened in over a hundred years. The name "Doppler" was vaguely guessed on the cover. When we took a look inside, a miracle! Another manuscript appeared including the two missing pages of the "Grande Fantaisie". Isn't that fantastic?
In the course of your research you were also in the Doppler house in Mödling. What documents regarding flute music and the Doppler brothers could be found there? How decisive was their influence on the Viennese flute scene?
Franz Doppler was an important member of the music society both in Budapest and Vienna but he was more interested in his operas than in flute music. In fact Franz and Carl considered themselves opera composers. They had friendships with Wagner, Brahms, Erkel, Liszt and other important composers of the time. When those composers wrote the interesting flute parts in their compositions for orchestra they had surely the sound and phrasing of Franz Doppler in mind.
When I visited the summer house of Franz Doppler in Mödling with my friend Raphael Leone, we were welcomed by Rudolf Schier, the great-great-grand son of Franz Doppler. He showed us the baton with which Richard Wagner conducted the first performance of Lohengrin in the Wiener Hofoperntheater in 1876 and which was given to the then Kapellmeister and flutist F. Doppler as a memory. Mr. Schier also showed us photos, the autobiographies in manuscript of Franz and Carl and other interesting family documents. It was very exciting.
As far as we know, the brothers did not play the Boehm system. Do you know why or what they thought about the new system?
Indeed, the Doppler brothers never used the Boehm system, they weren't interested. The introduction of this system took place very slowly and mainly in Germany. The old system allowed different fingerings for the same note, used by the performers to give the sound a variety of colors as it suited them. The Boehm Flute does not allow that which could be a reason, but there are certainly several.
In each of the twelve CDs in the collection dedicated to the Doppler brothers, an extensive article is included on topics of interest to all flute players: the slow change from the old to the new system (Böhm); the flutes used by the Dopplers; the repertoire performed by flute players in the 19th century; and many other very interesting subjects written by great specialists. I am enormously proud of their contributions to my project.
Mr. Arimany, early on you dedicated yourself to the great "forgotten" composers such as Francois Devienne. Where did this dedication come from?
Personally, I have to say that I have always really liked to know the environment and world of the great composers. At times these have overshadowed other musicians, often of great talent and of whom we know very little. My first album dealt with the flute music of some composers who were direct students of Johann Sebastian Bach and it helped me to better understand the personality of the great composer and, most importantly, to discover that some of his students were great too and that their music could sometimes even get confused with that of the great master. Some of Bach's works were completed by his children or students after his death, which has usually not been realized until centuries later. The same thing happened, for example, with Mozart's Requiem, which his student F.X. Sussmayr wrote to the end.
In my opinion it is very important to know their context in order to better understand the great composers. My project of recording the Devienne concerts falls into this scheme. There are a total of 14 concerts, although flutists always play the seventh. It's a shame because even though it's a beautiful concert, it's not the best from my point of view. The study of Devienne's concerts should serve to learn how to interpret Mozart correctly, for example. His phrasing is the same and so is his style and elegance. Using Mozart or the other great composers to learn to play a musical instrument is a mistake in my opinion. It's like trying to learn English by studying Shakespeare. The Doppler brothers were not first-rate composers, but once we know their works we will probably be able to face those of the great romantic composers with more conviction and knowledge.
In the course of your career you have also highlighted Catalan composers such as Joan Baptista Pla, a contemporary of Mozart. Do you think that there is still a lot of flute music to discover that is still in archives or private drawers?
Yes, there is still a lot of music to discover. It is advisable to browse the extensive music catalogs such as the Pierreuse, Arias, or others to find that very little music is currently published when we compare it with the amount that these catalogs show. The demand for music has been immense since the 17th century but often we musicians do not know any other repertoire than the one they put in front of us and there is little interest in going deeper. It's a shame because there is really a lot of interesting literature to be explored.
Last question, how do you see the future of playing the flute in Europe, also with regard to the large number of applicants to conservatories, the shrinking orchestra scene, the difficult conditions for professional musicians?
I would like to say something constructive, but unfortunately I am not really optimistic on this matter. Striving for a professional flute career is an immense challenge for the young generation and a path that will undoubtedly become harder in the future, although the technical level of the young flutists of today is higher than ever before. When I think about it, I get discouraged because it's not fair. In fact, I stopped teaching many years ago when I realized this. I felt responsible for the future of my students and didn't want to raise false hopes. Being a professional musician can be a wonderful job, but the conditions are becoming more and more challenging.
Claudi Arimany, born in Granollers / Catalonia, is an international successful flutist who is considered to be a direct heir to Jean-Pierre Rampal, his mentor and colleague, in terms of both the interpretative style and the musical concept. Since the 1980s he has appeared as a guest soloist with leading international orchestras and has also been working on reviving forgotten flute literature. At the end of 2020 he published a compilation of all the flute works by the brothers Franz and Carl Doppler on twelve CDs for the Austrian label Capriccio.
He has an extensive discography with more than 40 albums recorded for labels such as Sony Classical, Denon, Novalis, Delos Int., Saphir, Capriccio, etc. Considered by Jean-Pierre Rampal as "one of the finest flautists of his generation", they have both recorded and performed together around the world for many years. Claudi Arimany plays the emblematic W.S Haynes gold flute that belonged to J.P. Rampal.
The interview was conducted by Mirjam Braun MA